The face behind the story
AN ECONOMIST WITH THE SOUL OF AN ARTIST
My story is one of those. A story of surprises, reinventions, hopes and dreams come true.
After nearly 20 years as investment products specialist in an international bank, something totally unexpected encouraged me to change the course of my career. What started as a real shock ended up being a beautiful chance to rewrite my life.
Some years before, the idea of changing my life started to plant itself in my mind. I was so focused in my job that I was forgetting to do the things that had always been important to me, so I decided to put a remedy to this. I started by rescuing my childhood dream (being an actress) from the scrapbook . I studied and went to castings, and bit by bit, I made my way into the world which I had always been so passionate about, but for so many years had put off. Initially, I regretted not having done it earlier, but I soon came to understood that all those years in the business world had provided me with extremely – useful tools and knowledge – which are rarely included in artistic degrees. Key tools that could make a big difference to the life of an artist, and which could make his/her career one with a great future, as profitable as any other profession.
I then decided to do my bit for art. From that moment on, I resolved to combine my great passion with the advice and transmission of those tools and knowledge to creatives and artists of all disciplines. So that they can live from their art in a profitable way more and more, and we can properly understand and value all the hard work that lies behind artistic careers. So that those anonymous artists around us stop being anonymous, and we can all enjoy what they do best, their ART.
If you'd like to know a little bit more about my story, I invite you to read my first post in my blog.
Training
Workshops and courses with a dynamic, practical approach; which provide you with the tools you need to convey your art to its full worth to your audience.
Conferences
Talks focusing on useful and interesting issues for creatives and artists in general, as well as on tools which help artists to make a living from their talent.
Personalized Advice and Consultancy
If you want to take your career in a new direction, if you're not getting the results you want – we can go through the tools and adjust, change or make additions where necessary.
Project Reactivation
Have a great idea which is gathering dust? Unsure how to negotiate it and get the necessary authorizations, contacts, investors or visibility?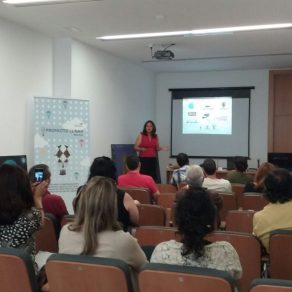 Proyecto Lunar,
CADE Málaga

Junta de Andalucía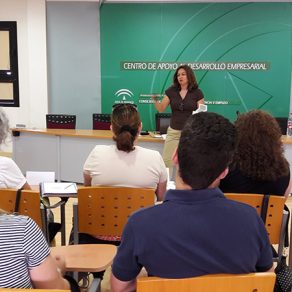 Lanzadera de Empleo,
CADE Málaga
Junta de Andalucía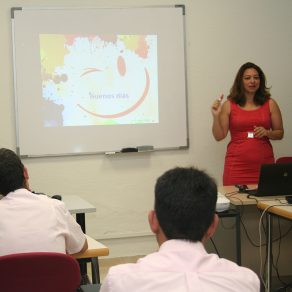 Programa Transformando futuro.

La Fundación CEM y la Confederación de Empresarios de Málaga (CEM) en colaboración con la Obra social "La Caixa"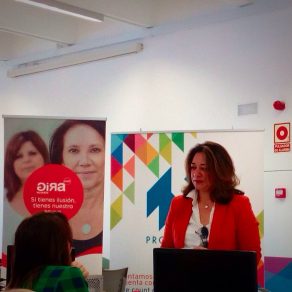 Giramujeres

Coca Cola y Fundación Mujeres

The world is waiting to see your talent.
What is keeping you?
Do you dare to make the leap?